Our Top Ten Most Loved Book List
1. THE FALSE PRINCE by Jennifer Nielsen
The False Prince was our last read aloud for the school year. Students were invested in this book. They hated if we only had ten minutes to read on a tight-scheduled day. Many class discussion arose without probing or prodding. If you want a class at the edge of their seats, or a child who cannot put the book down, this one is for you.
From Amazon.com: In this first book in a remarkable trilogy, an orphan is forced into a twisted game with deadly stakes.
Choose to lie…or choose to die.
In a discontent kingdom, civil war is brewing. To unify the divided people, Conner, a nobleman of the court, devises a cunning plan to find an impersonator of the king's long-lost son and install him as a puppet prince. Four orphans are recruited to compete for the role, including a defiant boy named Sage. Sage knows that Conner's motives are more than questionable, yet his life balances on a sword's point — he must be chosen to play the prince or he will certainly be killed. But Sage's rivals have their own agendas as well.
As Sage moves from a rundown orphanage to Conner's sumptuous palace, layer upon layer of treachery and deceit unfold, until finally, a truth is revealed that, in the end, may very well prove more dangerous than all of the lies taken together.
An extraordinary adventure filled with danger and action, lies and deadly truths that will have readers clinging to the edge of their seats.
2. AMULET Series by Kazu Kibuishi
Talk about well-loved. I have to buy a whole new set of this series for fall. Girls and boys devoured this series and could not wait for book 7 when it came out this spring. We had wait-list after wait-list of readers read for the next book in the series.
From Amazon.com: After tragedy strikes their family, Emily and Navin move with their mother into the old home of their great-grandfather. On their very first night in the strange house, Emily and Navin's mom is kidnapped by a tentacled creature. Determined to rescue her, Emily and Navin are led into a world of robots, talking animals, flying ships, new allies . . . and enemies. There, Emily learns that she is a Stonekeeper and essential to the survival of this world, and that her incredible story is only just beginning.
3. THE HONEST TRUTH by Dan Gemeinhart
This is the second year I have include this book as a read aloud. We were even lucky enough to have Dan Gemeinhart visit our school this spring. Students fell in love with the main character Mark and his Dog Beau as they traveled to Mt. Rainier. Taking place in Washington State was the perfect setting since our social studies unit for the year was Washington State History and Government. Students made storyboards of their favorite scene and presented them to author Dan Gemeinhart during his visit. This heart-wrenching tale of perseverance and love engage readers from cover to cover.
From Amazon.com: It's never too late for the adventure of a lifetime.
In all the ways that matter, Mark is a normal kid. He's got a dog named Beau and a best friend, Jessie. He likes to take photos and write haiku poems in his notebook. He dreams of climbing a mountain one day.
But in one important way, Mark is not like other kids at all. Mark is sick. The kind of sick that means hospitals. And treatments. The kind of sick some people never get better from.
So Mark runs away. He leaves home with his camera, his notebook, his dog, and a plan. A plan to reach the top of Mount Rainier. Even if it's the last thing he ever does.
THE HONEST TRUTH is a rare and extraordinary novel about big questions, small moments, and one incredible journey.
4. SHILOH by Phyllis Reynolds Naylor
Our first read aloud of the year drew in the new fourth graders. Students quickly discovered how invested a reader can get into a book. They cared about Shiloh and despised Judd. This is a wonderful read aloud.
From Amazon.com: Marty will do anything to save his new friend Shiloh in this Newbery Medal–winning novel from Phillis Reynolds Naylor.
When Marty Preston comes across a young beagle in the hills behind his home, it's love at first sight—and also big trouble. It turns out the dog, which Marty names Shiloh, belongs to Judd Travers, who drinks too much and has a gun—and abuses his dogs. So when Shiloh runs away from Judd to Marty, Marty just has to hide him and protect him from Judd. But Marty's secret becomes too big for him to keep to himself, and it exposes his entire family to Judd's anger. How far will Marty have to go to make Shiloh his?
5. THE WAR THAT SAVED MY LIFE by Kimberly Brubaker Bradley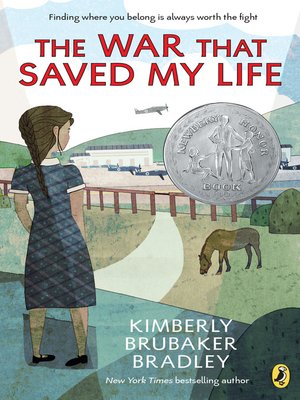 My words will never do this book justice. This is the most powerful book I have read. The main character, Ada, endures more than most of us could imagine. My students fell in love with Ada and HATED Mam, Ada's mom.We were ecstatic to hear this well-deserved book won a Newbery Honor. After we completed this class read aloud, we had the pleasure to Skype with the author, Kimberly Brubaker Bradely. We found out the sequel will leave off right where this story ended. We cannot wait!
From Amazon.com: An exceptionally moving story of triumph against all odds set during World War 2, from the acclaimed author of Jefferson's Sons and for fans of Number the Stars.
 
Nine-year-old Ada has never left her one-room apartment. Her mother is too humiliated by Ada's twisted foot to let her outside. So when her little brother Jamie is shipped out of London to escape the war, Ada doesn't waste a minute—she sneaks out to join him.
 
So begins a new adventure of Ada, and for Susan Smith, the woman who is forced to take the two kids in. As Ada teaches herself to ride a pony, learns to read, and watches for German spies, she begins to trust Susan—and Susan begins to love Ada and Jamie. But in the end, will their bond be enough to hold them together through wartime? Or will Ada and her brother fall back into the cruel hands of their mother?
 
This masterful work of historical fiction is equal parts adventure and a moving tale of family and identity—a classic in the making.
6. RAYMIE NIGHTINGALE by Kate DiCamillo
We pre-ordered this book for our Fourth Grade Book Club. Students had three weeks to read the book, then we met after school to discuss. Many finished the book within one week because they could not put it down. Out of the three rancheros (best friends), Beverly was the most favorite. We were not disappointed with Kate DiCamillo's newest book!
From Amazon.com: Raymie Clarke has come to realize that everything, absolutely everything, depends on her. And she has a plan. If Raymie can win the Little Miss Central Florida Tire competition, then her father, who left town two days ago with a dental hygienist, will see Raymie's picture in the paper and (maybe) come home. To win, not only does Raymie have to do good deeds and learn how to twirl a baton; she also has to contend with the wispy, frequently fainting Louisiana Elefante, who has a show-business background, and the fiery, stubborn Beverly Tapinski, who's determined to sabotage the contest. But as the competition approaches, loneliness, loss, and unanswerable questions draw the three girls into an unlikely friendship — and challenge each of them to come to the rescue in unexpected ways.
7. SOME KIND OF COURAGE by Dan Gemeinhart
The first student to read this book in my class followed along with the award-winning audio book. He would shout, tear-up, and whisper to himself throughout the book. This is a kid who finally fell in love with a book thanks to Dan Gemeinhart. This was also our first Fourth Grade Book Club book and the group loved it. It is action-packed and full of love. It takes place in the 1800s in Washington State. Another must read!
From Amazon.com: Joseph Johnson has lost just about everyone he's ever loved. He lost his pa in an accident. He lost his ma and his little sister to sickness. And now, he's lost his pony-fast, fierce, beautiful Sarah, taken away by a man who had no right to take her.
Joseph can sure enough get her back, though. The odds are stacked against him, but he isn't about to give up. He will face down deadly animals, dangerous men, and the fury of nature itself on his quest to be reunited with the only family he has left.
Because Joseph Johnson may have lost just about everything. But he hasn't lost hope. And he hasn't lost the fire in his belly that says he's getting his Sarah back-no matter what.
The critically acclaimed author of The Honest Truth returns with a poignant, hopeful, and action-packed story about hearts that won't be tamed… and spirits that refuse to be broken.
8. WONDER by R.J. Palacio
This was another Fourth Grade Book Club book the students loved. It made them think about what it would like to be Auggie and how they treat people who may look different.
From Amazon.com: The book that inspired the Choose Kind movement.
"I won't describe what I look like. Whatever you're thinking, it's probably worse." 
August Pullman was born with a facial difference that, up until now, has prevented him from going to a mainstream school. Starting 5th grade at Beecher Prep, he wants nothing more than to be treated as an ordinary kid—but his new classmates can't get past Auggie's extraordinary face. WONDER, now a #1 New York Times bestseller and included on the Texas Bluebonnet Award master list, begins from Auggie's point of view, but soon switches to include his classmates, his sister, her boyfriend, and others. These perspectives converge in a portrait of one community's struggle with empathy, compassion, and acceptance.
"Wonder is the best kids' book of the year," said Emily Bazelon, senior editor at Slate.com and author ofSticks and Stones: Defeating the Culture of Bullying and Rediscovering the Power of Character and Empathy. In a world where bullying among young people is an epidemic, this is a refreshing new narrative full of heart and hope. R.J. Palacio has called her debut novel "a meditation on kindness" —indeed, every reader will come away with a greater appreciation for the simple courage of friendship. Auggie is a hero to root for, a diamond in the rough who proves that you can't blend in when you were born to stand out.
9. DEEP, DARK, AND DANGEROUS by Mary Downing Hahn
The craze with this book started when a student read this book along with the audio book on our class iPad. He could not stop talking about how creepy this book was and how much he loved it. Students waited for their turn with the book. A great ghost story for any classroom library.
From Amazon.com: Just before summer begins, 13-year-old Ali finds an odd photograph in the attic. She knows the two children in it are her mother, Claire, and her aunt Dulcie. But who's the third person, the one who's been torn out of the picture?
Ali figures she'll find out while she's vacationing in Maine with Dulcie and her four-year-old daughter, Emma, in the house where Ali's mother's family used to spend summers. All hopes for relaxation are quashed shortly after their arrival, though, when the girls meet Sissy, a kid who's mean and spiteful and a bad influence on Emma.
Strangest of all, Sissy keeps talking about a girl named Teresa who drowned under mysterious circumstances back when Claire and Dulcie were kids, and whose body was never found. At first Ali thinks Sissy's just trying to scare her with a ghost story, but soon she discovers the real reason why Sissy is so angry. . . . Mary Downing Hahn is at her chilling best in this new supernatural tale that's certain to send shivers down her readers' spines.
10. THE BOOK SCAVENGER by Jennifer Chambliss Bertman
Boy did my students fall in love with this book and ciphers. It was a great book to read aloud this year. It kept the students guessing right up until the end. What a fun book!
From Amazon.com: For twelve-year-old Emily, the best thing about moving to San Francisco is that it's the home city of her literary idol: Garrison Griswold, book publisher and creator of the online sensation Book Scavenger (a game where books are hidden in cities all over the country and clues to find them are revealed through puzzles). Upon her arrival, however, Emily learns that Griswold has been attacked and is now in a coma, and no one knows anything about the epic new game he had been poised to launch. Then Emily and her new friend James discover an odd book, which they come to believe is from Griswold himself, and might contain the only copy of his mysterious new game.
Racing against time, Emily and James rush from clue to clue, desperate to figure out the secret at the heart of Griswold's new game―before those who attacked Griswold come after them too.