I review every middle grade book I read, yet I have not placed the reviews here on my blog. I figure it is about time a share the book love here too! Here are ten of my recent reads. Enjoy and share!
BEYOND THE BRIGHT SEA by Lauren Wolk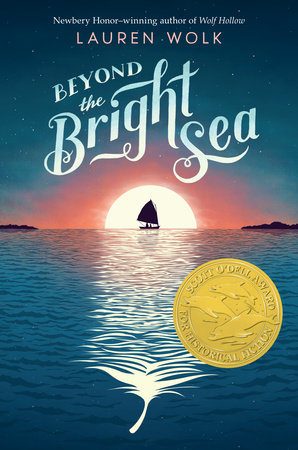 Set in the 1920s on the Massachusetts Elizabeth Islands, BEYOND THE BRIGHT SEA is a beautiful novel about discovering your past while respecting your present. Twelve-year-old Crow has questions about where she came from. Once she starts to look into her past, Crow discovers more than she plans.
I cannot describe how touching this book was. I felt the love Osh and Miss Maggie had for Crow. The understanding of her desire to know more about where she came from. Family is more than blood, and author Lauren Wolk displayed this so elegantly. I recommend this book for grades five and up.
FORGET ME NOT by Ellie Terry
A novel written in verse, FORGET ME NOT is a story about a girl, Calliope June, who longs to live in a town for enough time to make a friend. Making friends is not easy for Calliope since she has Tourette syndrome. Hiding her ticks is challenging, especially when kids start to notice and comment how strange she is. When a new friendship for Calliope starts to blossom, will she have to move again?
FORGET ME KNOT is an important book to have in every classroom and school library. Themes of acceptance, overcoming challenges, and doing the right thing are threaded throughout this book. Author, Ellie Terry, who is diagnosed with Tourette syndrome paints a realistic picture of life for a child with TS. The characters pull at your heart and will linger with you long after you finish the book. Beautifully written.
ORPHAN ISLAND by Lauren Snyder
This book kept me on my toes. Just when I thought I had things figured out, author Laurel Snyder threw in a new twist. Who sent these nine kids to the island? Why can there only be nine kids at one time? Why are there certain rules to follow on the island and who created them? Why does the oldest child have to leave when a new child arrives?
If you love mystery, suspense, science fiction, and fantasy, you will love ORPHAN ISLAND. I recommend this book for grades four and up.
BUBBLES By Abby Cooper
Imagine yourself as a kid. Not only is it YOUR fault your mom lost her job and broke up with her boyfriend, now you are seeing the thoughts of others around you. You know, like the ones you see above cartoon characters in the comics, thought bubbles. You start to believe maybe something is seriously wrong with you. It is hard enough being a kid, now this?
Author Abby Cooper writes an incredible tale about a girl who is so in tune with the people around her it is starting to consume her. As a reader, I connected with this story and the main character Sophie. I was just like her when I was a kid. I always worried about the people and events around me. I would obsess about the unknown and what I had no power over, but I never let anyone know about it. It did not manifest in the same way as Sophie's feeling did, but none the less, I could relate. Abby Cooper has a way of storytelling that reminds you of the adolescent you. So real, so rich, so tender. A must read for fourth grades and up!
WISHTREE by Katherine Applegate
*I received this book via a Shelf Awareness Giveaway. It comes out September 26th.
Did you know trees can talk? Red, the wishtree can. She has two hundred and sixteen rings worth of life experience and has carried over two hundred years worth of human wishes. Before her life is over, can Red help make one more wish come true?
Written from the tree's perspective, author Katherine Applegate, crafts a tale of hope, love, and acceptance. See our world in a whole new light. WISHTREE will stay in your heart long after the last page. I recommend this book for the young and old.
YORK by Laura Ruby
*Thanks to the #bookvoyage giveaway, I received YORK.
Once you start this book you will not be able to put it down. Every twist and turn in the plot kept me involved and tearing through each page to solve the cipher with Tess, Theo, and Jamie. Sci-fi fans will like the twist author Laura Ruby puts on New York City's past and present day. The Morningstarr Twins invented never before seen technology for the city of New York in the late 1700s and disappeared fifty-seven years later leaving behind the Old York Cipher that can only be solved by the right people. It just so happens that seventh-graders in the present-day are the right fit for the job. This book will not disappoint.
HOUSE ARREST by K.A. Holt
Written in a poetic format, HOUSE ARREST is a collection of journal entries main character Timothy is required to make during his year-long house arrest sentence after stealing a wallet to help pay for his baby brother Levi's medical bills. Timothy not only has to deal with his brother's fragile medical state. His father left not long after Levi's birth without letting anyone know and has had no contact with the family.
Reading this book, I found myself wondering how I would handle Timothy's situation when I was his age. How would I react? Would I be the one to run away like his Dad? Would I be like Timothy and make a rash decision? Would I be like his mom and work myself into the ground and forbid asking for help? The characters K.A. Holt created react in real, real ways. This book is shockingly real. You will love it. I recommend HOUSE ARREST for grades four and up.
LEMONS by Melissa Savage
*I received LEMONS via a Shelf Awareness Giveaway.
This book has it all: likable, believable, quirky characters, adventure, mystery, love, and loss. It is an important story about the loss of a mother and the gain of a new friend. As ten-year-old Lem adapts to her new life in a new town, she becomes the assistant to Bigfoot Kid Detective Tobin Sky. Over the course of the summer, Lem and Tobin's friendship leads to the discovery of something neither of them could have ever imagined.
Lemons, by Melissa Savage, is one of the best books I have read this year. I plan on reading it aloud to my fifth-grade class in September. "When life gives you lemons, make lemonade," is what Lemonade Liberty Witt's mama always told her. And boy does this book give kids the message, "If Lem can make it through that tough time in her life, then I can too." I am anxious to hear the great discussions our class will have because of this book. It is a MUST HAVE for grades four and up.
REAL FRIENDS by Shannon Hale
Elementary school friendships are not the easiest for Shannon. Especially since her best friend is part of a "group" where some members are not so nice or just down right mean. As Shannon navigates the complicated dynamics of the group, she discovers what type of friend she wants to be and what makes a real friend.
REAL FRIENDS is the graphic novel we have been all waiting for. I can see this book being passed around my fifth-grade classroom, just as popular as SMILE and SISTERS by Raina Telgemeier. By the end of the school year, REAL FRIENDS will look worn and well loved. I plan on purchasing multiple copies to keep up with the popularity I know this book will have in my class. I cannot wait for the release of this book. It is a must have for any classroom and school library.
THE SOMEDAY BIRDS by Sally J. Pla
*I received THE SOMEDAY BIRDS via a Shelf Awareness Giveaway.
Bird-loving Charlie's life dramatically changes when his Dad is sent to a hospital across the country. Injured in Afghanistan, Charlie's Dad needs special attention from an expert doctor. Charlie's grandmother and sole caretaker must go to be with Charlie's father. The only person left to care for Charlie and his siblings is a strange tattooed girl named Ludmila whom they know little about. Ludmila decides to take the kids on a road trip across the country so they can be with their Dad. Charlie doesn't want to leave home, but maybe he can spot birds from the Someday Bird List Charlie and his Dad created. During the journey, Ludmila's secrets emerge, forever changing this family's lives.
I fell in love with Charlie and his family's quirky dynamics right away. Charlie and his siblings seemed real and genuine. I was pulled in by this strange Ludmila character, wondering what her connection to Charlie's Dad was. Author, Sally J. Pla, takes the reader on a funny, heart-wrenching journey across the country. You will not get bored on this adventurous road trip. In the end, the reader will be satisfied and sad to leave the family's side. A great addition to any fourth grade and above classroom library.